Grainy ice cream is unpleasant. Plant-based nanocrystals might help
The stabilizers could prevent large ice crystals from forming and causing a coarse texture
You can never have too much ice cream, but you can have too much ice in your ice cream. Adding plant-based nanocrystals to the frozen treat could help solve that problem, researchers reported March 20 at the American Chemical Society spring meeting in San Diego.
Ice cream contains tiny ice crystals that grow bigger when natural temperature fluctuations in the freezer cause them to melt and recrystallize. Stabilizers in ice cream — typically guar gum or locust bean gum — help inhibit crystal growth, but don't completely stop it. And once ice crystals hit 50 micrometers in diameter, ice cream takes on an unpleasant, coarse, grainy texture.
Cellulose nanocrystals, or CNCs, which are derived from wood pulp, have properties similar to the gums, says Tao Wu, a food scientist at the University of Tennessee in Knoxville. They also share similarities with antifreeze proteins, produced by some animals to help them survive subzero temperatures. Antifreeze proteins work by binding to the surface of ice crystals, inhibiting growth more effectively than gums — but they are also extremely expensive. CNCs might work similarly to antifreeze proteins but at a fraction of the cost, Wu and his colleagues thought.
An experiment with a sucrose solution — a simplified ice cream proxy — and CNCs showed that after 24 hours, the ice crystals completely stopped growing. A week later, the ice crystals remained at 25 micrometers, well beneath the threshold of ice crystal crunchiness. In a similar experiment with guar gum, ice crystals grew to 50 micrometers in just three days.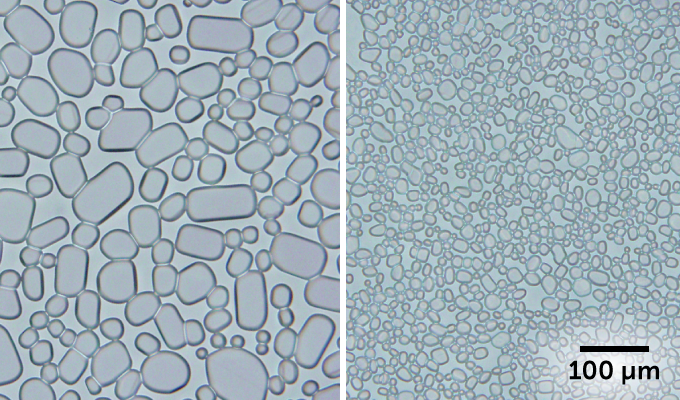 "That by itself suggests that nanocrystals are a lot more potent than the gums," says Richard Hartel, a food engineer at the University of Wisconsin–Madison, who was not involved in the research. If CNCs do function the same way as antifreeze proteins, they're a promising alternative to current stabilizers, he says. But that still needs to be proven.
Until that happens, you continue to have a good excuse to eat your ice cream quickly: You wouldn't want large ice crystals to form, after all.